2021 CLP Treatment is scheduled for Sunday evening 5/16/21

Treatment area map below - LSIA will treat approximately 95 acres for CLP in 2021 compared to 122 acres in 2020. The areas to target and acreage recommendations are the product of the Early Spring Curlyleaf Pondweed survey conducted by Eric Fieldseth of AIS Consulting Services on behalf of the Lake Sarah Improvement Association. The report can be viewed via this link in .pdf format
Areas 1 2 3 4 10 and 12 are tentatively scheduled for Monday 5/17/21, with aquathol, subject to weather. (See information and use restrictions on Aquathol below the map.)
The remaining zones are tentatively scheduled the following week, with diquat. The permit has been approved. (See information and use restrictions on Diquats below the map.)
LSIA is targeting early June for the milfoil survey with treatment to follow. Based on what Eric saw in the CLP survey, and the hybrid milfoil, it is probably a fair bet that we will be looking to treat more milfoil than in recent years.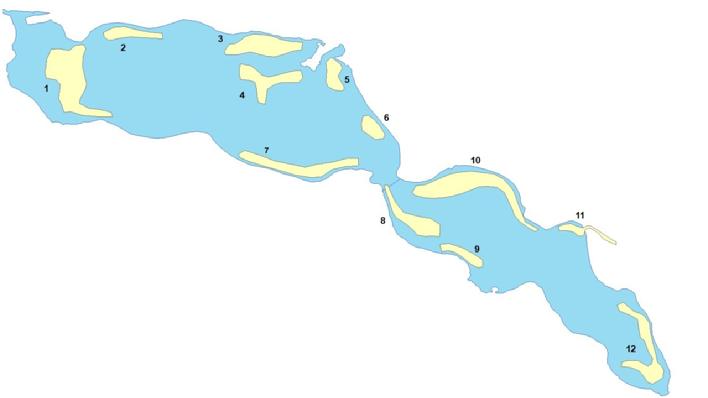 2021 Curlyleaf Pondweed Treatment areas
Aquathol K information

Aquathol K is a non-selective liquid aquatic herbicide containing 40.3% dipotassium salt of endothall as the active ingredient.

PLANTS CONTROLLED: Bur Reed, Coontail, Hydrilla, Milfoil, Naiad, Pondweed (American, Curly-leaf, Flat-stem, Floating-leaf, Horned, Illiniois, Largeleaf, Narrowleaf, Sago, Threadleaf, and Variable-leaf), Parrotfeather, and Water Stargrass. Under optimum conditions, 7-21 days are required before the desired level of aquatic weed management is achieved.

USE RESTRICTIONS: Waters treated with Aquathol K may be used for swimming, fishing, and irrigating turf, ornamental plants and crops immediately after treatment with the following exceptions: Do not use the treated water to irrigate annual nursery or greenhouse crops including hydroponics and newly seeded or transplanted annual crops, newly seeded or transplanted ornamentals, and newly sodded or seeded turf for 7 days after the treatment. Do not use treated water for animal consumption within the following periods: 0.5 ppm dipotassium salt - 7 days after treatment, 4.25 ppm dipotassium salt - 14 days after treatment, 5.0 ppm dipotassium salt - 25 days after treatment. For drinking water, concentration of endothall acid in the water should be less than 0.1 ppm at the time of consumption. Treatment should not be made within 600 feet from functioning potable water intakes.




Diquat (Reward) Information

Reward is a non-selective contact liquid aquatic herbicide containing 37.3% diquat dibromide as the active ingredient. It provides broad range control of resistant algae and submerged, floating and emergent plant species.

PLANTS CONTROLLED: Floating/marginal plants including Water Lettuce, Water Hyacinth, Duckweed, Salvinia, Pennywort and Cattails. Submersed plants including Bladderwort, Hydrilla, Milfoil, Pondweed (except Richardson's Pondweed), Coontail, Elodea, Brazilian Elodea, Naiad and Algae (when used in conjunction with algaecide). Under optimum conditions, 5 - 21 days are required before the desired level of aquatic weed management is achieved.

USE RESTRICTIONS: Waters treated with Reward may be used for fishing and swimming immediately after treatment although swimming may cause drift of the active ingredients or suspension of sediments which will reduce effectiveness. Do not use treated water for drinking for 1-3 days following treatment (depending on application rate). Do not use treated water for animal consumption for 1 day following treatment. For irrigation of turf and landscape, wait 1-3 days after treatment (depending on application rate). Irrigation of food and production crops should not occur until 5 days after treatment.



The most recent water level reading of 2021 was 978.86' on May 11 (east bay gauge)
This can be compared to the initial reading this spring of 979.32 on 4/9/21,
the final reading last fall on November 8, 2020 of 978.38' and the Ordinary High Water Level for Sarah of 979.90'. More information on past years water levels can be found on the Water Levels page on this website.
Water Quality/Lake Treatment Update
LSIA's aquatic invasive species consultant Eric Fieldseth from AIS Consulting Services LLC, has provided a summary for the upcoming LSIA Spring newsletter. click here to view Summary of 2020 CLP and EWM Management on Lake Sarah by Eric Fieldseth, AIS Consulting. This includes some very informative historical background information, along with a summary of our treatment in 2020 including post treatment survey. Eric is the independent consultant that LSIA hires to help conduct the surveys and guide decisions for treatment of the invasive weeds.
We have made great improvements in controlling the invasive weeds since we began to treat them in 2012. Anyone who has lived on this lake before the treatment started knows the significant improvement in the water quality of the lake over the years.
The LSIA board has already met and are busy working with their partners (Three Rivers Park District, Pioneer-Sarah Creek Watershed Management Commission, DNR and AIS Consulting) to make plans for the 2021 lake treatment.
Lake Treatment Donation
The estimated cost to treat the invasive weeds in 2021 is around $36,000, which is consistent with the amount spent the last two years. We continue to get some financial support from Three Rivers Park District and Pioneer-Sarah Creek Watershed Management Commission. We have applied for some possible grant money and recent indications from the DNR are positive for some reimbursement post treatment. Treatments typically are applied in May/June each year pending survey results and weather conditions. In order to continue the treatment and improve the quality of our lake we need your continued financial support.
We are again asking all lakeshore residents and dock owners to donate $150.00
---
Make your contribution to the CLP Treatment Program here!

Stakeholders and lakeshore property owners have been asked to help offset the cost of the CLP Treatment program with a tax deductible contribution of $150. To make your contribution using PayPal just click on the button to the right. Or if you prefer, checks payable to the Lake Sarah Improvement Association may be mailed to LSIA, P.O. Box 25, Loretto, MN 55357.





GOOD RIDDANCE 2020 HELLO 2021!

It's time to renew your annual LSIA membershiop!
The 2021 membership fee is still only $35.00 - Please become a member and support your lake association!
To renew your membership or become a new member:
Complete the form and mail it to the address along with a check (payable to LSIA)
Use the

Pay

Pal

( online payment service) option below
Thanks for all your support!.


All paid memberships will receive a discount for Randy's Sanitation! This year Randy's has offered additional discounts to those who use the 65 and 95 gallon size! Info on LSIA membership discounts page.
Pay your LSIA Membership via

Pay

Pal

!

Click the Buy Now button on the right to pay your dues with any major credit card or via bank transfer.





Walleye stocking continues!

2,300 walleye stocked in Sarah on 10/7/2020 off Joe Slavec's dock by Marcus Zahn with fingerlings from Ron Radermacher.






Help support continued walleye stocking in lake Sarah! Click the

Pay

pal

button on left to donate to the stocking program with any major credit card or bank balance transfer. Your tax deductible donations are greatly appreciated!



Many of the questions emailed to this site regard illegal or inconsiderate snowmobile, atv, boat or pwc operation or fishing/hunting violation questions. To report illegal vehicular activity you should contact Hennepin County Sheriff Water Patrol (612)596-9880, or West Hennepin Public Safety (763)479-0500, The Water Patrol will not issue a citation for offenses they do not witness. They may issue a citation if the witness agrees sign the complaint (much like a citizens arrest). If you plan on filing charges against an individual you should make note of the date, time, vehicle description and license number, identity or good description of the operator. A side note; If the offender wishes to appear in court you may be required to appear as witness / accuser. To report hunting or fishing violations call DNR area Conservation Officer Officer Name: Brent Grewe Phone: (763) 205-6014, DNR Enforcement (651)582-1502, or orTIP (turn in poachers) toll free hotline 800-652-9093. Click the blue text for a copy of the Minnesota Snowmobile Regs , Personal Watercraft Regs , MN Boating Guide , ATV/OHV Regs, or the current MN Fishing Regulations , in Adobe Acrobat Reader format (.pdf).


Lake Sarah (MN DNR #27-0191) is located in sections 1 and 2, township 118, range 24; and in sections 34 and 35, township 119, range 24, Hennepin County, Minnesota. GPS 45°4'19"N 93°41'24"W surrounded by the Minnesota cities of Independence, Greenfield, Loretto, Medina, and Rockford. Click here to view a Google hybrid map of lake Sarah. Suggestions for content and services to be provided by this site are always welcome! E-mail this website with your feedback, suggestions, comments or ideas.

Copyright © 2001-2021
Brad L. Spencer. All rights reserved. Photos are used by permission only, any use of images posted here must conform to the current published Use of Content Policy (see below).
The following websites: lakesarah.com, lakesarah.org, lsia.org and lakesarah.net are neither owned nor operated by the Lake Sarah Improvement Association (L.S.I.A). The L.S.I.A. is therefore not responsible for this website's content. Opinions expressed on these sites are not neccessarily those of the L.S.I.A. or its board of directors. Links to this site are welcomed subject to the conditions as posted on the

Linking & Use of Content Policy

page. News and information are from sources that are thought to be reliable but no guarantee as to the accuracy of these items is implied.