Lake Sarah Improvement Association


Fall General Membership meeting.







October 19, 2021 (Tuesday)





7:00 pm at the Choo Choo bar in Loretto




Independence Voter Information

City of Independence residents have an off year election on November 2, 2021

Independence voters should vote at Independence City Hall on all below items.

In person early voting and mail in ballots are available now contact City Hall 763-479-0527, November 2 polls open at 7:00am and close at 8:00pm






Daylight Saving Time ends on







At 2:00am on Sunday we return to standard time.




Turn your clocks back by one hour

(which means you gain one hour, in order to "fall back")









Horazuk, Gerald V. age 80 of Loretto, MN and Mesa, AZ passed away on 9/12/2021. Employee of Metro Transit 30 years. Survived by wife of 54 years, JoEllen (Anderson); sons Tim (Kelli), Dave (Heather), Joel (Becky); 5 grandchildren; 2 great grandchildren. Memorial Service 11 am, October 2, 2021 at Christ Lutheran Church, Maple Plain. Gathering of family and friends 10-11 am prior service.

itenfuneralservices.com

(763) 972-2891




Gerry was a long time Lake Sarah resident, we have many images of his creative boat parade entries with the kids. Godspeed Gerry.









The most recent water level reading of 2021 was 978.22' on October 2 (east bay gauge)
This can be compared to the Lowest level in recent records of 977.78' on August 10, 200

7,
the final reading last fall on November 8, 2020 of 978.38' and the Ordinary High Water Level for Sarah of 979.90'. More information on past years water levels can be found on the Water Levels page on this website.
2021 water levels are seasonally very low with very little precipitation in the near term forcast. 2021 is tracking very close to the levels experienced in 2006 & 2007 (see chart below). If the dry conditions continue boaters should be cautious when navigating shallower areas of the lake.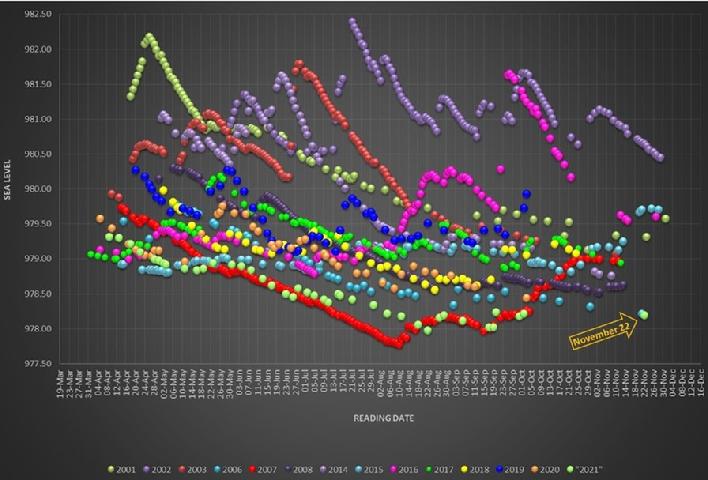 Water Level Comparison (2021 YTD in light green) chart courtesy of Fred Lang
Lake Sarah Improvement Association
Summer Newsletter
The July edition of the LSIA newsletter was recently released with calendar updates, news and information. If you did not receive a copy you may download and read it via this link (in .pdf) .
---
25th Annual Lake Sarah Independence Day Boat Parade!!
Great turnout in the 94 degree sunshine for this year's 4th of July parade - 23 watercraft participated making this year a tie with 2020 for the largest parade in it's history (assuming my memory is reliable). Thank you to all the participants and shoreline Spectators!
Special shout out to Sarah Evjen (parade chairperson) and Anne Horn (parade leader), this 25th annual Independence Day Parade would not have happened without your help!
Photos below by Brad Spencer. Families who would like full size images of their parade entry should
email me
and I'll send them to you!
Many of the questions emailed to this site regard illegal or inconsiderate snowmobile, atv, boat or pwc operation or fishing/hunting violation questions. To report illegal vehicular activity you should contact Hennepin County Sheriff Water Patrol (612)596-9880, or West Hennepin Public Safety (763)479-0500, The Water Patrol will not issue a citation for offenses they do not witness. They may issue a citation if the witness agrees sign the complaint (much like a citizens arrest). If you plan on filing charges against an individual you should make note of the date, time, vehicle description and license number, identity or good description of the operator. A side note; If the offender wishes to appear in court you may be required to appear as witness / accuser. To report hunting or fishing violations call DNR area Conservation Officer Officer Name: Brent Grewe Phone: (763) 205-6014, DNR Enforcement (651)582-1502, or orTIP (turn in poachers) toll free hotline 800-652-9093. Click the blue text for a copy of the Minnesota Snowmobile Regs , Personal Watercraft Regs , MN Boating Guide , ATV/OHV Regs, or the current MN Fishing Regulations , in Adobe Acrobat Reader format (.pdf).


Lake Sarah (MN DNR #27-0191) is located in sections 1 and 2, township 118, range 24; and in sections 34 and 35, township 119, range 24, Hennepin County, Minnesota. GPS 45°4'19"N 93°41'24"W surrounded by the Minnesota cities of Independence, Greenfield, Loretto, Medina, and Rockford. Click here to view a Google hybrid map of lake Sarah. Suggestions for content and services to be provided by this site are always welcome! E-mail this website with your feedback, suggestions, comments or ideas.

Copyright © 2001-2021
Brad L. Spencer. All rights reserved. Photos are used by permission only, any use of images posted here must conform to the current published Use of Content Policy (see below).
The following websites: lakesarah.com, lakesarah.org, lsia.org and lakesarah.net are neither owned nor operated by the Lake Sarah Improvement Association (L.S.I.A). The L.S.I.A. is therefore not responsible for this website's content. Opinions expressed on these sites are not neccessarily those of the L.S.I.A. or its board of directors. Links to this site are welcomed subject to the conditions as posted on the

Linking & Use of Content Policy

page. News and information are from sources that are thought to be reliable but no guarantee as to the accuracy of these items is implied.