LSIA Ice Cream Social
Monday evening July 19 @ 7:00pm Shady Beach Circle
Rather than a picnic this year, LSIA hosted an Ice Cream Social. Neighbors came out for ice cream and an opportunity to meet the LSIA board and other lake neighbors. Lakes Ice Cream and Treats truck (owned and operated by the Foster Family on Lake Sarah) will be at our event serving up ice cream treats to all!
A brief meeting was held to elect / relect LSIA board members and the Board responded to questions regading water levels and water quality.
Thank you to the Anne & Kevin Horn and the board for organizing the event and to Mary Jorgenson for hosting the Ice Cream Social!
---
Lake Sarah Improvement Association
Summer Newsletter
The July edition of the LSIA newsletter was recently released with calendar updates, news and information. If you did not receive a copy you may download and read it via this link (in .pdf) .
---
Lack of rain creating challenges at boat launches this summer
The abnormally dry to drought conditions occurring across Minnesota are creating challenging conditions for people trying to get their boats into or out of the water at public boat launches, according to the Minnesota Department of Natural Resources.
When water levels drop during extended dry periods, the concrete ramps at boat launches may no longer reach all the way into the water and hazards such as prop-wash holes can become more problematic.
Prop-wash holes are caused by "power-loading" the boat onto the trailer instead of using the preferred method of cranking it on the trailer by winch. When water levels are low, people are more likely to back their trailer past the ramp's end and into a prop-wash hole if one is present.
"It can be pretty difficult to get a trailer unstuck from a hole like that," said Nancy Stewart, DNR water recreation consultant. "And just beyond the prop-wash hole, there's often a mound of material that boats may get stuck on after launching, preventing them from getting to deeper water."
Extending ramps can help in some places, but not when shallow water persists beyond the boat ramp. Stewart offers the following tips for launching boats in low water conditions:
Check the ramp, especially the firmness of the gravel at the ramp's end, and the water depth.
Visit an alternative access site, or a different lake or river altogether, if water levels are too low to safely launch your boat.
Watch for obstructions in the lake, like large boulders or tree stumps.
Expect delays at public boat launches and be patient with boaters who are having difficulty launching. You can also #BeGoodNatured and offer assistance.
Visit the DNR website for boat launching maps and information on power loading.
---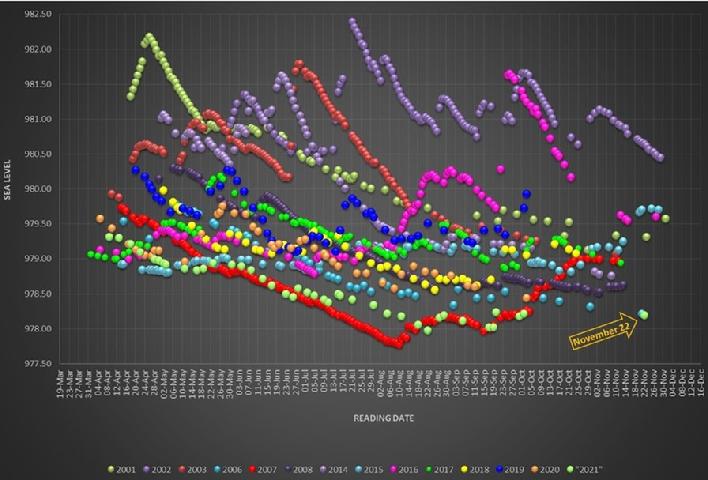 Water Level Comparison (2021 YTD in light green)
The most recent water level reading of 2021 was 978.42' on July 21 (east bay gauge)
This can be compared to the initial reading this spring of 979.32 on 4/9/21,
the final reading last fall on November 8, 2020 of 978.38' and the Ordinary High Water Level for Sarah of 979.90'. More information on past years water levels can be found on the Water Levels page on this website.
2021 water levels are seasonally very low with very little precipitation in the near term forcast. 2021 is tracking very close to the levels experienced in 2006 & 2007 (see chart above). If the dry conditions continue boaters should be cautious when navigating shallower areas of the lake.
25th Annual Lake Sarah Independence Day Boat Parade!!
Great turnout in the 94 degree sunshine for this year's 4th of July parade - 23 watercraft participated making this year a tie with 2020 for the largest parade in it's history (assuming my memory is reliable). Thank you to all the participants and shoreline Spectators!
Special shout out to Sarah Evjen (parade chairperson) and Anne Horn (parade leader), this 25th annual Independence Day Parade would not have happened without your help!
Photos below by Brad Spencer. Families who would like full size images of their parade entry should
email me
and I'll send them to you!
Many of the questions emailed to this site regard illegal or inconsiderate snowmobile, atv, boat or pwc operation or fishing/hunting violation questions. To report illegal vehicular activity you should contact Hennepin County Sheriff Water Patrol (612)596-9880, or West Hennepin Public Safety (763)479-0500, The Water Patrol will not issue a citation for offenses they do not witness. They may issue a citation if the witness agrees sign the complaint (much like a citizens arrest). If you plan on filing charges against an individual you should make note of the date, time, vehicle description and license number, identity or good description of the operator. A side note; If the offender wishes to appear in court you may be required to appear as witness / accuser. To report hunting or fishing violations call DNR area Conservation Officer Officer Name: Brent Grewe Phone: (763) 205-6014, DNR Enforcement (651)582-1502, or orTIP (turn in poachers) toll free hotline 800-652-9093. Click the blue text for a copy of the Minnesota Snowmobile Regs , Personal Watercraft Regs , MN Boating Guide , ATV/OHV Regs, or the current MN Fishing Regulations , in Adobe Acrobat Reader format (.pdf).


Lake Sarah (MN DNR #27-0191) is located in sections 1 and 2, township 118, range 24; and in sections 34 and 35, township 119, range 24, Hennepin County, Minnesota. GPS 45°4'19"N 93°41'24"W surrounded by the Minnesota cities of Independence, Greenfield, Loretto, Medina, and Rockford. Click here to view a Google hybrid map of lake Sarah. Suggestions for content and services to be provided by this site are always welcome! E-mail this website with your feedback, suggestions, comments or ideas.

Copyright © 2001-2021
Brad L. Spencer. All rights reserved. Photos are used by permission only, any use of images posted here must conform to the current published Use of Content Policy (see below).
The following websites: lakesarah.com, lakesarah.org, lsia.org and lakesarah.net are neither owned nor operated by the Lake Sarah Improvement Association (L.S.I.A). The L.S.I.A. is therefore not responsible for this website's content. Opinions expressed on these sites are not neccessarily those of the L.S.I.A. or its board of directors. Links to this site are welcomed subject to the conditions as posted on the

Linking & Use of Content Policy

page. News and information are from sources that are thought to be reliable but no guarantee as to the accuracy of these items is implied.